Genesis 17:18-19

And Abraham said to God, "If only Ishmael might live under your blessing!" Then God said, "Yes, but your wife Sarah will bear you a son, and you will call him Isaac. I will establish my covenant with him as an everlasting covenant for his descendants after him".
It was by faith that Abraham left his place of comfort just trusting in God's direction. This started the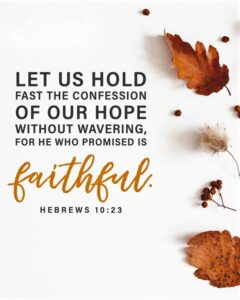 journey to what would be an everlasting covenant with God (Genesis 12:1-4).
However, when Sarah's reality didn't match God's promises and she saw no way for the child God promised to be born from her, (in the natural, she was barren), she asked Abraham to go make it happen (Genesis 16). That was out of line with God's promise. Later on, Ishmael was born. This led to years of unnecessary burdens and heartache and she still had to wait because God never promised Ishmael, He promised Isaac. .
Genesis 17:21 "But my covenant I will establish with Isaac, whom Sarah will bear to you by this time next year."
I wonder how many of us have forfeited a blessing or had to endure years of hardships, hurt and bondage because we gave up too soon or took matters into our own hands. When there's a desire in our heart we too can cave under the pressure of waiting especially when it seems as if it's never going to happen. Other times we may tell ourselves that we believe it will happen but maybe God needs our help (hence Sarah), so we proceed to act on our own will, prolonging the wait time for the real blessing.
As a mother, I can imagine God watching us, His children foolishly trying to fulfill our own desires and shaking His head wondering when we will learn to wait on Him.
If there is one thing I've learned, it's that no matter how hard I try, if God doesn't do it, I will not enjoy it. That's why if He's not in it, I don't want it. This could be a job, relationship, business etc.
I'll give another example…
One day on our way to church, I was talking to my kids about The Resurrection. Jesus' journey from the cross to resurrection involved dark, painful times. My daughter said 'He was crucified and buried on a Friday and I don't know what happened on Saturday, but on Sunday He resurrected''.. It seems to me that a lot of people are stuck on Saturday. They don't know what's going to happen.. the situation looks dire. But think about this, there were people that walked the earth with the very Messiah and yet had to watch him die hanged on a tree (Matthew 27:55-56). I can only imagine the loss of all hope they must've felt at that moment.
Had they not held on to God's promises or had they questioned was it really Jesus they had been with all along, perhaps they would've not made it to Sunday and perhaps would've forfeited the blessing of seeing Jesus again (Matthew 28:8-9).
I don't mean to make this waiting thing sound easy because believe me, I know all too well that waiting can be hard and sometimes disheartening. But I also know that even more disheartening is ending up with something we never wanted in the first place (like Ishmael). At some point we have to pick our 'hard'.
God doesn't operate based on human ideas of how things should be done or when. His word says that a day to Him is like a thousand years and a thousand years like one day (2 Peter 3:8) (Psalm 90:4).
I want to encourage somebody, if this is your Saturday or if you find yourself like Sarah, stuck in between your reality and God's promises, don't quit before you see the blessing! Remember, God's ways are not our ways and His thoughts are not our thoughts. Everything comes to you at the right time, be patient and trust the process. Don't give up! Press through and stay the course because believe me, then came Isaac, then came Sunday!
Be encouraged!
Romans 8:24-25

For we were saved in this hope, but hope that is seen is not hope; for why does one still hope for what he sees? But if we hope for what we do not see, we eagerly wait for it with perseverance.