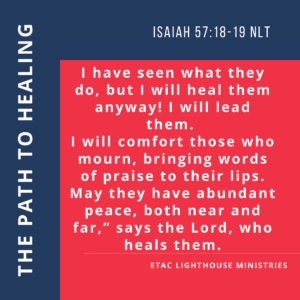 When you're going through a difficult season whether emotional, spiritual, mental, or physical, it can be easy to lose sight of the goal or lose your faith.
Some challenges in life can make you feel as though you will never be able to get through them and the burden can feel like too much to bear.
But God wants to help us heal. Countless times throughout the bible He invites us to cast our cares on the one who bore it all for our deliverance (Matthew 11:28-29), (1 Peter 5:6), (1 Peter 2:24).
Psalm 107:19-20 – Then they cried out to the Lord in their trouble, And He saved them out of their distresses. He sent His word and healed them, And delivered them from their destructions.
Now, this isn't a seamless process. Sometimes the path to healing can be messy and sometimes the cure can seem worse than the illness. It can be messy because it requires us to be open and vulnerable to the things that we tried to suppress for so long.
Even in terms of medicine, like a broken bone, healing can hurt more than the injury. There may be triggers along the way that will force you to confront the very thing you have been trying to forget.
However, you can't heal what you won't acknowledge. The first step towards freedom is to acknowledge that you need to be set free.
In order to move on, we must confront those things which have been secretly holding us back from fulfilling our full potential of who God created us to be.
We confront them by speaking it out loud even if it's just to God. Maybe you need to tell someone or if you're like me, you may just need to write it down.
The good news is that throughout this process, we are never alone. God has promised to never leave us nor forsake us. He promised to be with us always. (Deuteronomy 31:6), (Matthew 28:20).
When you open yourself up to God by trusting Him and telling Him what's in your heart, what you're struggling with, when you allow Him to take control of your situation, He is faithful to see you through it all.
It is important to remember that He's with us at all times because it is during those difficult times that Satan uses his most common lie, that God is far away or has forgotten about us. We are persuaded to believe that maybe all of the promises in the bible are true but they just don't apply to us.
We must combat the devil's lies with God's truth! We must fight the temptation to believe that lie by continuously reminding ourselves of what the Word of God says, so we can rest assured that even if it looks like it, we are not alone.
Joshua 1:9 "Have I not commanded you? Be strong and courageous. Do not be frightened, and do not be dismayed, for the Lord your God is with you wherever you go."
I don't know what you may be going through and I don't know what your healing process looks like but I do know that God's promises do apply to you too. If you trust God, no matter how heartbroken you may feel, you will heal.
Even if you have started the process of healing but feel like you've taken some steps back, it's ok. You're not a failure. You can always pick yourself back up and move forward.
Every day is a new beginning. Give yourself grace and let God guide you through those tough times. Remember, regardless of what you're going through or how you're feeling, better days are ahead if you just believe.
Psalm 34:18

The Lord is close to the brokenhearted and saves those who are crushed in spirit.