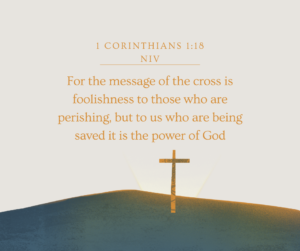 Good Friday and Easter, is the greatest story and reminder of hope and redemption, if ever there was one.
The Bible tells us in Matthew 27:32-56 of the crucifixion and death of Jesus Christ. There was a lot of confusion, mourning, crying, hopelessness and desperation. Good Friday commemorates the day when wrath and mercy met at the cross.
However, the bible also says in Matthew 28:1-10 that when the Marys went to look at the tomb, it was empty! He had risen!
Jesus endured many things right up until His death. He endured betrayal, public mockery, accusations, hurt, pain, and among many other things, He was brutally abused and killed.
Things were so brutal that even Jesus felt forsaken by His Father:
Matthew 27:45-46 KJV

Now from the sixth hour there was darkness over all the land unto the ninth hour.

And about the ninth hour Jesus cried with a loud voice, saying, Eli, Eli, lama sabachthani? that is to say, My God, my God, why hast thou forsaken me?
How many of us have ever felt this way? (even forgotten by God)! A lot of people have endured this. They feel hurt, betrayed and abandoned by people, even those close to them. For some, the situation looks dire. They don't know what's going to happen.. And they feel hopeless.
But I am here to encourage someone, if the enemy thinks he has won, little does he know your Sunday is coming. There will be life again! Jesus can breathe life over dead situations and promises.
So, if you looked and it seemed hopeless, don't give up, look again! Press through and keep on believing.
You might be going through a Friday or a Saturday, but then comes Sunday!
1 Corinthians 1:18 NIV

For the message of the cross is foolishness to those who are perishing, but to us who are being saved it is the power of God.