Jeremiah 13:10-11

These wicked people, who refuse to listen to my words, who follow the stubbornness of their hearts and go after other gods to serve and worship them, will be like this belt—completely useless! For as a belt is bound around the waist, so I bound all the people of Israel and all the people of Judah to me,' declares the Lord, 'to be my people for my renown and praise and honor. But they have not listened.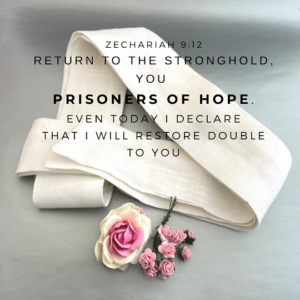 I vividly remember listening to this sermon and to this day I haven't found a more clear illustration in the Bible of what it's like to cling to anything other than God and what actually happens when we do not live out our God given purpose. When the linen belt didn't live out the purpose it was created for, it became useless!
The same way that a belt is used for holding up one's pants, God created all of us for a specific purpose and it is up to us whether or not we choose to follow God's path or our own. He says I have placed before you life and death, choose life that you may live, you and your descendants – Deuteronomy 30:19.
What we cling to or hold on to matters because it can shape the course of our lives. I don't want to cling to or bind myself around anything else other than Him. I want to be His prisoner of hope because His hope does not disappoint. Only in Him do we have fullness of life and true joy.
He says in Jeremiah 29:11 – For I know the thoughts that I think toward you, says the Lord, thoughts of peace and not of evil, to give you a future and a hope.
I want to encourage someone today:
Maybe you have every reason to be happy in the natural yet there's this constant feeling of emptiness and no matter what you do there's still something is missing but you're not sure why. Or perhaps you actually have a reason to feel empty. Either way, have you considered what have you been clinging to? Are you living your Godly purpose?
I know very well that not following God's plan and not walking the narrow path is a recipe for destruction – Matthew 7:13-14 .
The Bible says in
Proverbs 14:12, There is a way that appears to be right, but in the end it leads to death.
If you were created to be like that linen belt yet choose to be something else, I encourage you to reevaluate your life and cling on to Him because there is no place more safe and secure than in the hands of your creator.
Deuteronomy 30:20
that you may love the Lord your God, that you may obey His voice, and that you may cling to Him, for He is your life and the length of your days;
We know that the walk is not easy, but we can do all things through Him because He gives us strength.
May we bind ourselves to God like a linen belt and stop living a useless and empty life without Him.

John 15:4-5
"Abide in Me, and I in you. As the branch cannot bear fruit of itself, unless it abides in the vine, neither can you, unless you abide in Me. I am the vine, you are the branches. He who abides in Me, and I in him, bears much fruit; for without Me you can do nothing".