Colossians 1:9-10 For this reason we also, since the day we heard it, do not cease to pray for you, and to ask that you may be filled with the knowledge of His will in all wisdom and spiritual understanding; that you may walk worthy of the Lord, fully pleasing Him, being fruitful in every good work and increasing in the knowledge of God;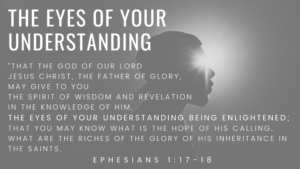 A lot of people treat the Bible like the fine print, they claim to understand it, sign it but don't read it..
Hosea 4:6 says "My people are destroyed for lack of knowledge". This is why it is so important to continuously pray that our spiritual eyes are opened. We are in a spiritual fight of life vs death, faith vs fear and truth against lies and deception.
Everyday it is more and more evident that we are living in the last days. The devil is busy because he knows that his time is short (Revelations 12:12) and one of his biggest tactics is spiritual blindness. He tries very hard to convince people that he does not exist because you can't fight something you don't believe is real. He does this so that he can keep people bound to a life of defeat.
Satan tries to keep people spiritually blind and ignorant to God's word and those who once believed, making them doubt or renounce God. Some proclaim to be Christians without truly believing or understanding who God really is. Others are asleep and have conformed to a routine that does not go beyond what their natural eyes can see (Matthew 13:15-17).
We need to wake up! As true believers, We can no longer be pacified with a watered down Gospel to quench the superficial thirst on the surface level of our Christianity.
The kingdom of God is full of endless possibilities but we only have access to what the Holy Spirit reveals to us (Matthew 13:10-17) (1 Corinthians 2:10-16). This is why we must be pressed and eager to have our spiritual eyes opened. We need to pray that we may be able to tap into the resources of heaven and learn to see things from God's point of view and not ours. 1 Corinthians 2:14 says: "But the natural man does not receive the things of the Spirit of God, for they are foolishness to him; nor can he know them, because they are spiritually discerned".
The bible tells us in Ephesians 6:12 that we are in a spiritual battle with Satan and his demons. Spiritual warfare is real however, we can't fight the spiritual with a carnal mind. That's why God has left us well equipped with spiritual weapons that we may counter attack spiritually (2 Corinthians 10:3-4, Ephesians 6:11-18). Nonetheless, in order to take hold of the weapons we have available, we have to be aware that they exist, have knowledge of what they are, know how to access them and learn how to use them.
Colossians 2:14-15 tells us that Satan and his demons were disarmed at the cross therefore, if we allow the devil to keep us spiritually blinded, we are handing over to him a fight we've already won through Christ.
2 Corinthians 4:4 The god of this age has blinded the minds of unbelievers, so that they cannot see the light of the gospel that displays the glory of Christ, who is the image of God.
The devil knows that if we continuously pray to God and seek to be filled with His wisdom and spiritual understanding, then we would realize that we have the capability within us to see beyond the natural and we would begin to walk worthy of the Lord, fully pleasing Him, being fruitful in every good work and increasing in the knowledge of God; (Colossians 1:9-10).
Having our spiritual eyes opened allows us to see the power and authority that lies within us, (given only to those who believe–Ephesians 1:19). It allows us to see that Jesus is King and that no weapon that is formed against us will ever prosper because God's word tells us that this is our heritage (Isaiah 54:17). This is our spiritual legal right because we are heirs with Christ (Romans 8:16-17). But we can only claim it and take ownership through Him.
I want to encourage someone to ask God to open your spiritual eyes so that you are able to tap into the deeper things of the spirit and that your knowledge of God may grow deeper so that you may overcome. For God's words tells us in Revelation 3:21 "To him who overcomes I will grant to sit with Me on My throne, as I also overcame and sat down with My Father on His throne".
Be encouraged!
Luke 24:45 Then He opened their understanding, that they might understand the Scriptures.