James 1:22

22 But be doers of the word, and not hearers only, deceiving yourselves.
Amen. Perhaps we have all said it at least once or twice, but what does it really mean? In a nutshell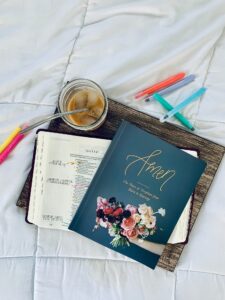 , amen is used as an expression of agreement or 'let it be so' especially among believers.
Nowadays, we have been conditioned to say amen by request. 'Can I get an amen?' Amen. But what are we agreeing to?
If we were to examine ourselves (2 Corinthians 13:5, Lamentations 3:40) and are honest, are we really living a lifestyle that reflects our amen?
We can agree that for the most part, this is easy when we are in church or surrounded by other believers because usually, this is when we are on our best behavior.
But does our amen stop at the door of the church where we consequently hang up our (spiritual) Christian suit till next time? Are we conforming to the patterns of this world where everything is permissible and everything is accepted, especially that which goes against everything God says?
Or are we keeping Him first at all times even when no one is looking (like at work or at the store, in traffic or waiting in line, etc.)?
Think about this, how would you carry yourself if Jesus were physically standing next to you? Would He approve of your behavior or choice of words?
I dare to say that we have all struggled at some point to trust God with certain areas of our lives and out of frustration have said or done something inappropriate and we may have thought, "I hope no one saw or heard that" but Jesus did.
What would happen if we start to be more concerned about what Jesus thinks instead of other people? The bible says, ..let your conduct be worthy of the gospel of Christ (Philippians 1:27).
Of course, this does not mean that Christians don't ever sin, or make mistakes because we are not perfect. There are also baby Christians who are still immature in their faith but God is maturing them as they continue to put their trust in Him.
However, there's a difference between making mistakes and choosing to live a life of constant, unrepentant sin, repeating old patterns and behaviors. The bible says in 2 Corinthians 5:17 Therefore, if anyone is in Christ, he is a new creation; old things have passed away; behold, all things have become new.
So a good question we should ask ourselves is '' (insert your name), are you living by your "Amen"? Just because you scream the loudest in church, are you screaming like that to your flesh? Is your love for Christ reflected outside of the church in the way you talk, or overall lifestyle?
My prayer is that if we haven't done so, we begin to live a life that reflects what we are proclaiming and with His help, actually do what His word says and not just hear it, lest we deceive ourselves. James 1:22.
May we work out our salvation with fear and trembling. May we live our lives with reverence and in complete awe of who God is and all He's done for us. This may not be easy but the point here is to not just talk the talk but also walk the walk because we know that the goal is greater than just our lives here on earth.
Be encouraged!
1 Corinthians 9:24-27

24 Do you not know that those who run in a race all run, but one receives the prize? Run in such a way that you may obtain it. 25 And everyone who competes for the prize is temperate in all things. Now they do it to obtain a perishable crown, but we for an imperishable crown. 26 Therefore I run thus: not with uncertainty. Thus I fight: not as one who beats the air. 27 But I discipline my body and bring it into subjection, lest, when I have preached to others, I myself should become disqualified.