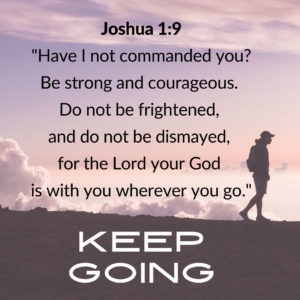 Isaiah 41:10
Fear not, for I am with you; Be not dismayed, for I am your God. I will strengthen you, Yes, I will help you, I will uphold you with My righteous right hand.'

Throughout the bible God repeatedly tells us not to fear. (Isaiah 41:10, Joshua 1:9).
I want to encourage someone today to keep on keeping on. Especially during these times when the world is so focused on celebrating but you may find yourself with nothing to celebrate, I've been there before. You may be surrounded by people and still feel alone or unseen, I've been there before. Maybe you've experienced loss, whether it's the physical departure of a loved one, a breakup or separation, a move to a different city, maybe you've watched or are watching someone battle an illness or any other type of difficult situation, no matter what you may be going through in this season, keep on keeping on.
I want you to know that God sees you, He hears you, He's with you. You're not alone. Even if you may be physically alone, just like you can't see the air that you breathe, yet you're still breathing it and it's keeping you alive, so is God right there with you, wherever you are.
Try your best to hold on to that hope. Don't give up. God loves you. God wants to heal you. God wants to help you. He wants to embrace you.
It's so important to keep going even when you feel like giving up. It's important to keep going because what is the alternative? If life with God is hard, imagine it without Him? Hold on to Him and don't let go.
We may not know why we go through certain things or why things happen the way that they do, but one thing we should all know is that God is God and no weapon that is formed against you will prosper. The weapons of despair may form, the weapons of loneliness may form, the weapons of brokenness may form, but let me tell you one thing, they will not prosper!
When God has a plan for your life, His Will will be done by whatever means necessary.
Consider when God wanted to deliver a message and Balaam wouldn't listen, He used a donkey! (Numbers 21:35).
In the bible story of Job, in chapter 42:2 Job said to God, "I know that you can do all things, and that no purpose of yours can be thwarted". Speaking of Job, let's learn not to question God but instead, let's keep asking Him to continue to guide us in all things.
God is our maker, He is our manufacturer, He knows what we need and why we go through the things we go through even when we don't understand or think it's fair.
One thing I've learned is that when we feel like giving up, when we don't want to keep going, that's when we are the closest to our breakthrough! A lot of times the devil knows this and that's why he applies pressure. So we can let go, give up and miss God's blessing.
I want to encourage someone today, make speaking with God part of your daily habits (pray!). Don't be so overcome by what's happening all around you that you lose focus and allow fear to keep you from obeying God.
When those discouraging thoughts come to your mind, take them captive! Arrest those negative thoughts, and command them to obey the truth of God's word! When you begin to command your thoughts, they have no choice but to obey because you are not speaking your own words, you are speaking God's truth.
This is for somebody, don't give up, keep going!
Be encouraged!
Joshua 1:9
"Have I not commanded you? Be strong and courageous. Do not be frightened, and do not be dismayed, for the Lord your God is with you wherever you go."