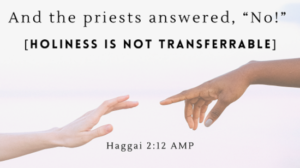 Have you ever caught health? Have you ever caught a cold? You can't be healthy by being around healthy people and healthy things without actually doing the things required to make you healthy.
However, it's easy to catch a cold. You don't have to do anything but be around an infected person.
In the same way, holiness is not transferable.
Holiness is an inside job. It starts inside of us and then the fruit of all the seeds planted will reveal itself in due season.
Just because we go to church and do all the things, does not mean that we are holy or living right.
Holiness takes more than checking off our holy to do list. Without a repentant heart, a right mind and a good attitude, we cannot please God.
The Psalmist David wrote in Psalm 51:16-19:
For You do not desire sacrifice, or else I would give it; You do not delight in burnt offering. The sacrifices of God are a broken spirit, A broken and a contrite heart— These, O God, You will not despise. Do good in Your good pleasure to Zion; Build the walls of Jerusalem. Then You shall be pleased with the sacrifices of righteousness..
The bible says that David was a man after God's own heart (Acts 13:22), yet he wrote Psalm 51 after he committed adultery with Bathsheba. In this Psalm we notice a few things. First, David acknowledged his sin/faults. He repented and then he pleaded with God for forgiveness.
In Haggai 2:10-14 God tells Haggai to ask the priests to rule this matter and the Amplified version interprets it like this:
12 If a man carries meat that is holy [because it has been offered in sacrifice to God] in the fold of his garment, and he touches bread, or cooked food, or wine, or oil, or any [kind of] food with this fold, does what he touches become holy [dedicated exclusively to God's service]?'"

And the priests answered, "No!" [[a]Holiness is not transferable.]

13 Then Haggai said, "If one who is [ceremonially] unclean because of [contact with] a corpse touches any of these [articles of food], will it be unclean?" And the priests answered, "It will be unclean." [Ceremonial uncleanness, like sin, is infectious.]14 Then Haggai answered, "'So is this people. And so is this nation before Me,' declares the Lord, 'and so is every work of their hands; and what they offer there [on the altar] is unclean [because they who offer it are unclean].
A lot of us are all guilty of thinking that the preacher is always talking about someone else, not us. But the bible advises us to watch and pray (Matthew 26:41) because in the last days it is possible that even the elect will be led astray or deceived (Matthew 24:24).
I mention that to say that it doesn't matter who we are or what position we hold. In the same way that God is not a respecter of persons, neither is sin. We are not untouchable to the sins of the world. This is why we are to put on our armor daily and be careful not to think that we are above anything or anyone. We should pray to be transformed by the renewing of our mind.
All of these things cannot be done on our own. We need our Creator. He is the only one that can take all of our broken pieces and make us whole. But in order for Him to do that, we have to allow Him to come into our lives, give us a new heart and allow us to take part in His righteousness.
My prayer today is that we can all stop pointing the finger and come to a place of repentance and sincerely ask God to show us our faults and make us humble enough to recognize that we have all fallen short of His glory.
May we pray that God shows us the role we each have played in our piece of the puzzle and plead for His mercy.
May we ask that He cleanses us, and creates in us a pure heart and renews a steadfast spirit within us (Psalm 51:7-10).
Isaiah 35:8

A highway shall be there, and a road, And it shall be called the Highway of Holiness.
The unclean shall not pass over it, But it shall be for others. Whoever walks the road, although a fool, Shall not go astray.