Hebrews 10:36
For you have need of endurance, so that after you have done the will of God, you may receive the promise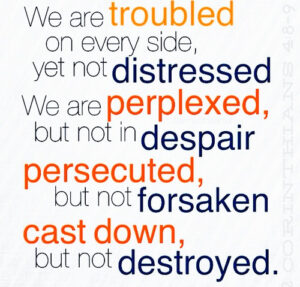 There is something to be said about endurance.
Last year while at a women's retreat the word given to me was 'endurance'. While at this year's retreat I heard someone say that they overcame all these years not just by faith but by endurance and perseverance.
Endurance is the ability to keep going and not give up in spite of difficult times or situations.
God never promised us a life free of trouble or adversity. On the contrary, He warned us in John 16:33 that in this world we will have trouble, but He also said we ought to take heart because He has overcome the world.
This alone should give us hope and comfort not in our own abilities, but in the finished work of Jesus.
The key to endurance is having faith in God and in Him alone.
I find that when I'm tired and discouraged, I cry out to God and not too long afterwards, I'm refreshed and with new found strength to keep going. Now I must admit that this doesn't come naturally, I have to make a conscious effort everyday to choose Him and seek Him.
God has promised a glorious and eternal reward in heaven but in this life only the ones who endure till the end will be saved Matthew 24:13. My motivation to endure and never give up is this hopeful anticipation that our ultimate destiny is an eternity in God's presence.
I want to remind someone that if your hope is in Jesus, then trust that no trouble in this life can take that hope away from you.
My prayer is that our strength to bounce back may be greater than our desire to quit and that as we work through challenges, we choose to focus on the fact that God is there by our side and He alone is our true source of hope.
Romans 5:3-5
And not only that, but we also glory in tribulations, knowing that tribulation produces perseverance; and perseverance, character; and character, hope. Now hope does not disappoint, because the love of God has been poured out in our hearts by the Holy Spirit who was given to us.