Put on the full armor of God, so that you can take your stand against the devil's schemes.
Ephesians 6:11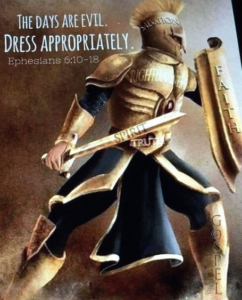 Unseen spiritual battles are real. So often, people struggle to recognize that the battles they face every day are not against other people but against spiritual forces. We need to realize that we are in a spiritual war and that there is something deeper and more destructive than meets the eye fighting against us. But God left us well equipped to fight this battle. In Ephesians 6:10-18 God gives us clear instructions on how to be prepared for victory by putting on The Full Armor of God.
To be honest, I used to struggle to understand what it actually meant to 'put on' the full armor of God until He began to open my eyes and help me understand.
The Belt of Truth. This world calls truth whatever makes them feel good or seems right. The bible says that God's Word is true and that Satan is the father of lies. In Hosea 4:6 God says that his people are destroyed for lack of knowledge. As a Christian, it's important to equip ourselves by learning more of His word so that we may stand up to evil, be firmly secured and set free by His truth.
The Breastplate of Righteousness. Though we ourselves are not righteous on our own, we are made right through Christ. In His righteousness, we choose to obey and do our best to live a life rooted in His word.
The Shoes of the Gospel of Peace. This world without God has no hope. That's why Jesus, the Prince of Peace, calls us to go and spread His Word. A barefoot soldier is an unprepared soldier and can easily lose focus or be distracted by the rocky ground felt under their feet. In the same way, we are to be prepared and ready to give an answer at all times and speak the message of Christ's salvation to the world.
The Shield of Faith. Life's challenges can test our faith in Jesus but when we hold firm to it, we can go forward and stand boldly against anything thrown our way.
The Helmet of Salvation. We must constantly ask God to renew our minds and protect our thoughts from the lies that can make us doubt, among many things, our salvation in Jesus.
The Sword of the Spirit. The word of God is living and powerful, and sharper than any two-edged sword. However, a sword is not very helpful if it is not being used. We have to keep it sharp by studying God's word regularly and then putting it into practice.
Each part of the armor serves a different purpose to protect us against things seen and unseen. The battle is real but so is the armor of God. But don't be deceived, simply knowing these scriptures is not enough. It is of no use if we don't apply it in our lives. It is like having a beautiful garment hanging in our closet but never actually putting it on. Or being caught in a rain storm with an umbrella that we never open. How foolish is that?! God is on our side but we must cooperate with Him and do our part in order to be victorious.
My prayer is that we learn the importance of being spiritually prepared because the devil trembles at the God that is within us. If we've been fighting the wrong battle, may we refocus and remember everyday to put on each piece of God's armor in its entirety. Only then will we be able to stand and have the blessed assurance that when the weapons form, they will not prosper.
2 Corinthians 10:3-6

For though we walk in the flesh, we do not war according to the flesh. For the weapons of our warfare are not carnal but mighty in God for pulling down strongholds, casting down arguments and every high thing that exalts itself against the knowledge of God, bringing every thought into captivity to the obedience of Christ, and being ready to punish all disobedience when your obedience is fulfilled.