Philippians 4:6-7
"Do not be anxious about anything, but in every situation, by prayer and petition, with thanksgiving, present your requests to God. And the peace of God, which transcends all understanding, will guard your hearts and your minds in Christ Jesus."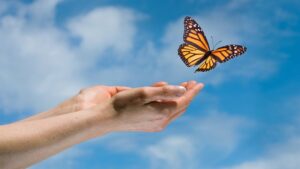 At some point or another, we all experience change. Change is hard. I don't think we talk about this enough or at all. We show up, put on a smile and keep going. People may ask ''how are you doing?" Good, we reply. But you're not really living, you're just existing.
Sometimes change comes because we sought it, other times it comes unwanted or unexpectedly. I know all too well from my own unwanted experiences, that the latter are the most difficult to deal with.
It can be especially hard if you're like me and it's hard to open up or speak to anyone. Currently, I am going through some changes and if I'm honest, I am not enjoying the process.
I know we all have some words of encouragement or something we want to say to make people feel better but what do you do or say when there are no words to ease the pain of change or to make you feel better?
Those raw real life unexpected changes that you were not anticipating or maybe you knew were coming, but were not looking forward to. When the world around you keeps going although your world is falling apart and no one notices yet everyone expects something of you, how do you handle it?
Well for me, I lean in to God. I have to go deeper into His word and deeper in my prayer life than ever before.
I don't always have the answer for why some things happen or why God allowed it but one thing I know for sure, it is in those times that I am forced to get on my knees, surrender it all to Him, and seek Him like never before.
These are the times that we must recognize the importance of not leaning on our own understanding. Our understanding is not ok. Our own understanding cannot make sense of the reality we may be living.
But I know a man who can give you His peace which transcends all understanding and His name is Jesus Christ . When we take our eyes off the uncertainty of the situation, and place our eyes on Him, when we surrender it all to Him, He will guard our hearts and our minds.
Only then do you realize that it doesn't have to make sense in the natural world because the maker of heaven and earth has the entire world in His hands and that includes you.
I know change is hard. But I want to encourage someone, whether your change is grief or loss, the end of something, a move, or dropping your little best friend off to college in a different city, far away, lean in to God and trust that He has your best interest at heart. Trust that all things work together for the good of those who love Him and are called according to His purpose.
Proverbs 3: 5-6
"Trust in the Lord with all your heart and lean not on your own understanding; in all your ways submit to him, and he will make your paths straight."